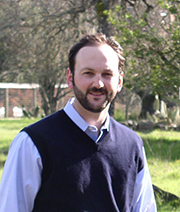 Brian Jackson
Broker/ President: DRE 01378320 • NMLS 287393:
Brian Jackson founded Western States Mortgage in 2003 and is the current Company President and Broker of Record. Brian takes pride in helping homeowners have a clear understanding of real estate and mortgage transactions and aims to exceed client expectations. He believes communication is vital to any transaction. Brian's experience and foresight help navigate the most challenging transactions and ensure a smooth process. He strives to achieve the highest level of honesty and integrity in the business.
Brian is a native of Sonoma County and earned his Bachelors Degree in Economics from University of California, Davis.
Office : 707-544-3600 Mobile : 707-321-9409 Email: bjackson@wsml.com
---
Kyle Beeler
Loan Officer • NMLS 222537:
Specialties: Buyer's Agent, Listing Agent, Property management. I am a Sr. Realty and Lending Manager with Western States Mortgage. Having been in the business for over 14 years, I have been the agent and/or loan officer in over 3,500 real estate transactions. I have also worked with over 2,500 clients and represented either the buyers, sellers, or both in over 75 home sales since January 2012. I know the Sonoma County market and how to buy and sell at the right value. I currently work with several all cash home investors, so I have a constant inside track on remodeled homes for sale and in some cases, buyers already waiting to buy your home.
I am married with 2 daughters and coach both of their soccer teams. I enjoy golfing, camping, and spending time with my family. I often become close friends with my clients and always look out for them in every transaction.
I would love to represent you and look forward to the opportunity.
Mobile : 707-321-5953 Fax : eFax: 1.888.320.KYLE(5953) 
Email: kyle@kylebeeler.com
---
Lori Boatright
Loan Officer • NMLS 1613058
There are many qualities and skills that go into being an excellent real estate professional—integrity, in-depth-communication, market knowledge, marketing savvy, effective negotiation skills, and a high-quality professional network—all of which are hallmarks of how I work. That said, with my experience as a Santa Rosa Real Estate professional, I've also found that providing the very best service is essentially about putting my clients first. That means keeping myself accessible, being a good listener, as well as a good communicator — responding quickly to your needs
This "Client-First" philosophy has always been my approach and it requires me to continually improve my skills and ways of doing business. In addition, I have found that the latest technologies are enabling me to do everything I have always done, only much more quickly and efficiently. They've also helped me extend the range of services I provide to my clients. When the time comes that you want to buy or sell a home in the Santa Rosa area, or even if you need home financing, please give me a call. 
Mobile : 707-889-3390 Email: lboatright@sbcglobal.net
---
Brian Taylor
Loan Officer DRE #01258360:
Integrity and respect are two of the core values for Brian Taylor's real estate business – and his life. He describes himself as a happy and fortunate person, and he brings that positive attitude to everything he undertakes.

Brian was born and raised in Sonoma County. Over the years, he has developed a deep appreciation for this land and everything it has to offer. For Brian, Sonoma County is and always will be, the best place in the world to live. Brian's journey in real estate started in 2001 working as a loan officer for a small office in his hometown, Santa Rosa. As a loan officer, he financed residential properties of all types and sizes gaining valuable experience in real estate finance. Brian then went on to become an Account Executive for a local wholesale mortgage bank where he spent the next four years building relationships and funding residential loans for brokers in Sonoma County. Brian's background in finance along with his extensive knowledge of the local markets make him a single point of contact for your home buying and selling needs.
Brian attributes much of his success to his attention to detail and the ability to develop a good working rapport with nearly everyone. He finds that doing it right the first time eliminates the problems and conflicts that can plague real estate transactions. It's no wonder that a good number of his clients come through referrals from past clients.
When Brian is not working with buyers and sellers to find their next dream home you can find him with his family and friends cooking up some Sonoma County bounty or enjoying outdoor activities such as golf, fishing, and hiking.
Mobile : 707-732-0200 Email:btrepro@gmail.com